Request Services from ProAg Engineering:
Click here
Speak with an Agricultural Engineer Today!
Call ProAg Engineering at
507-841-3269
Serving:
Iowa
Minnesota
Wisconsin
South Dakota
Nebraska
Agricultural Engineering Services
ProAg Engineering prides itself on providing common sense solutions to today's environmental issues. Most importantly we provide these services cost effectively and efficiently. With our agriculture background we can communicate and work with producers to meet their goals and exceed their expectations. We serve clients in all areas of Iowa, Minnesota, Wisconsin, South Dakota, and Nebraska.
Owner, Nic Rowe, P.E. is licensed as a Professional Engineer in five states and is a certified NRCS Technical Service Provider (TSP) in those five states. ProAg Engineering has worked with many trusted and respected University and Industry professionals on various projects. These experiences along with working on numerous farms in a large diverse area allow ProAg Engineering to stay up to date on the latest technology and services that need to be provided.
ProAg Engineering has worked on over 500 projects since 2009, with each project having different and unique circumstances providing us with experience to solve nearly any compliance issue.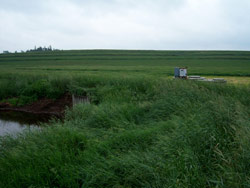 Our Services include, but are not limited to:
Dairy, Cattle Feedlot, Swine, & Poultry Design
Farmland Drainage Design
Natural Resource Engineering, Farm Ponds, Waterways, etc.
Stormwater Pollution Prevention Planning
Topographic GPS Surveying
AutoCAD Drafting
All Types of County/State/Federal Permit Applications
Knowledge & Experience with Federal and State Regulations
NRCS TSP Certified
Fuel Storage, SPCC Plans, & Secondary Containment
Serving Iowa, Minnesota, Wisconsin, South Dakota and Nebraska.